Caractéristiques:
﹡ Integrated design, site selection is flexible, convenient for installation
﹡With quantitative filling, non-quantitative filling, auto off, automatic settlement and other function
﹡Can be connected to FMS, with barcode scanning, voice self-service, multimedia, and other functions
﹡With low level alarm function;
﹡High quality. Using special components with strong resistance to AdBlue, all pipe joints are stainless steel, will not cause pollution to the AdBlue liquid.
﹡Low cost and economic. The containerized tank is equipped with rapid assembling device, it is easy for replace AdBlue tons of barrels (1 cube) which can be used recyclable.
﹡ Insulation layer in the containerized tank can ensure the AdBlue storage environment; the tank equipped with dispenser which has air conditioner can adapt to the harsh low and high temperature.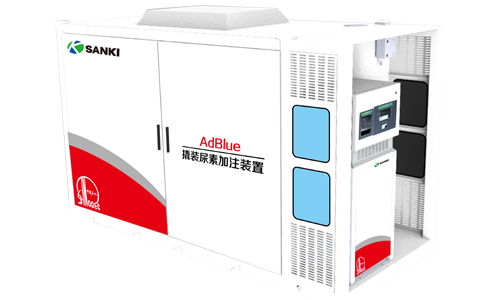 Integrated design,the dispenser and AdBlue containerized tank are integrated into a skid, is convenient for transportation and installation.
Configured hose reel, hose can stretch out and draw back automatically,maximum extension can reaches 10 meters.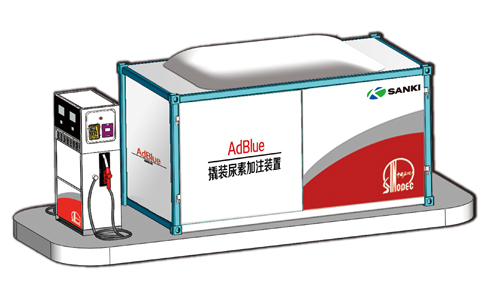 Designed in modularization. The AdBlue dispenser and pry are independent unit, Installation position can be set according to the condition。
The AdBlue dispenser has two type:1 nozzle and 2 nozzles
Containerized tank volume:
Containerized tank volume includes 2000L, 3000L and 5000L etc, also can be made according to customer's demand.
Divided AdBlue dispenser dimension: 800X460X1450 (mm)
Configuration optionnelle:
Spécifications techniques:
Main technical parameters of the AdBlue dispenser:
| | |
| --- | --- |
| Flow rate range | 5 ~ 35L/min |
| Maximum permissible error | ±0.30% |
| Working pressure | <0.3MPa |
| Power supply | three phase 80V 50HZ ; single phase 20V 50HZ |
| Single counting range | 0~9999.99 |
| Sale | 0~9999.99 |
| Totalize of volume | 0~9999999.99 |
| Totalize of sale | 0~99999999.99 |
| Unit price range | 0.01~99.99 |
| Ambient temperature | -10~+45º C (air-conditioning thermostatic system is needed if the Ambient temperature is less than -15 º C,and can only use all-in-one type) |
Main components parameters
a) AdBlue pump: 220V/370W AC 50Hz
b) AdBlue flow meter: 35-45L/min
c) Stainless steel self sealing nozzle :3/4"
d) AdBlue solenoid valve: 3/4", 12V/24V